Jewelry & glass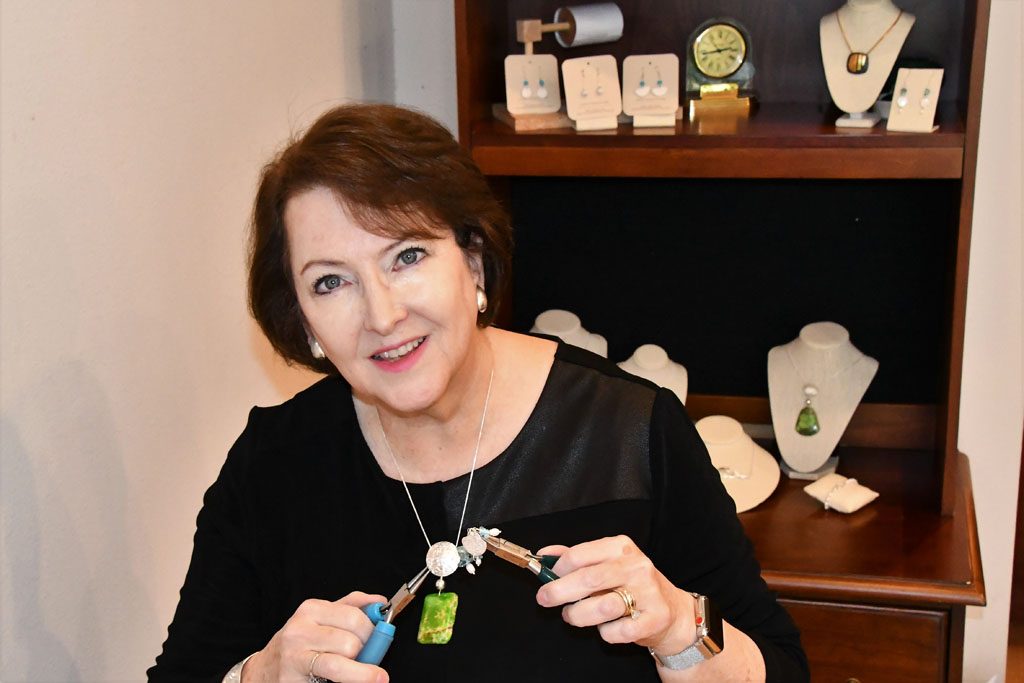 Martha Vaughan
"To me, it's all about organic forms and color. I love flowing, organic shapes paired with natural stones and vivid colors: that's where my design ideas begin," says Martha.
"I work primarily in metal clay to create fine silver jewelry due to its versatility in creating organic shapes, limitless textures, and depth. It wants to be stretched, to be transformed. It lends itself to experimentation, and encourages you to push limits. I love that challenge!"
Martha has pursued multiple art forms as her work as an artist has evolved. She started with ceramics, then moved to fused glass and then to metals. "They all work together," she says. "Working in clay led me to metal clay to create jewelry, which in turn led to metals fabrication. Along the way I began to take classes in fused glass in order to create more color in my jewelry."
"What I learn experimenting with one medium often sparks a breakthrough in another. When I'm working in porcelain and have an "aha" moment in design, I wonder what that would look like in metal, in the smaller scale of jewelry. And off I go to explore the concept in silver."
Martha creates jewelry in fine silver, bronze, and copper. She uses the keum boo technique to accent pieces with gold.
Martha was involved in many arts organizations in her early career, serving with her husband as co-chairs of Artfest in 1990 and as co-presidents of The 500, Inc. in 1991, raising hundreds of thousands of dollars for the arts of Dallas. Martha has also served on the board of The Dallas Theater Center and the Craft Guild of Dallas.
Martha is a certified metal clay instructor. Her work has been accepted in several of the Craft Guild of Dallas's juried shows, where she exhibits both ceramics and fine silver jewelry.
13. Preston Hollow Studios
6015 Azalea
Martha Vaughan
Jewelry & glass
469-939-1093
PrestonHollowStudios@gmail.com
PrestonHollowStudios.com